Public Notice on COVID-19 Community Update
August 04, 2020
PUBLIC NOTICE
ON COVID-19 COMMUNITY UPDATE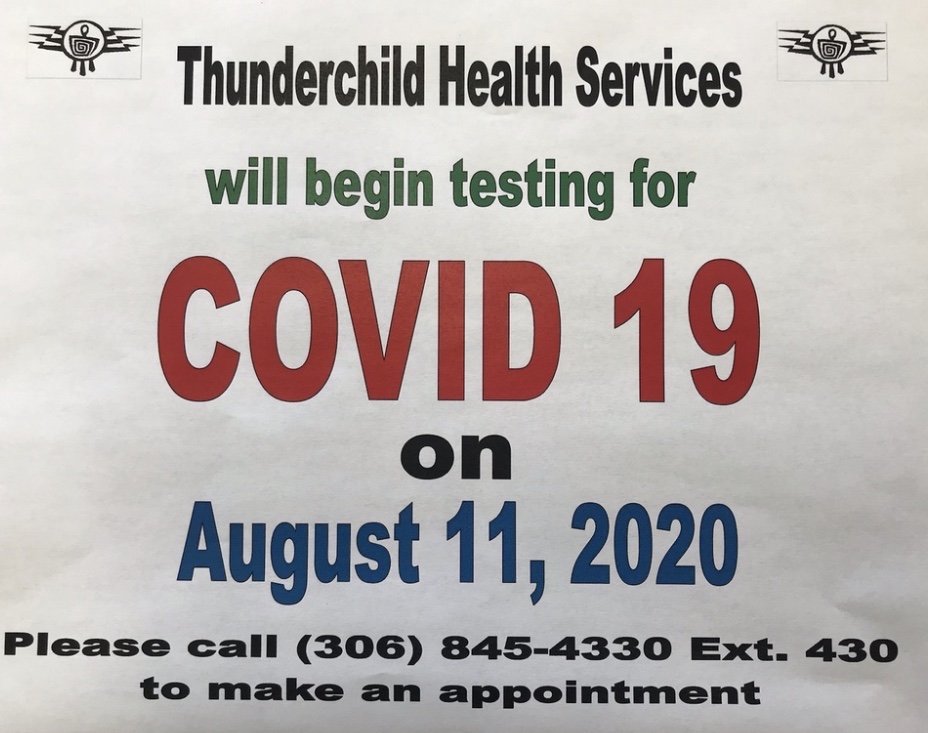 Tanisi, TCFN Citizens!
Further to June 2020 update to transition back to our "new normal" under the COVID-19 Pandemic within our Nation community, Thunderchild First Nation will continue to follow, communicate and promote preventative Health pandemic measures and best practices to avoid the COVID-19 virus amongst our peoples, homes, work-places and community gatherings.
On Saturday, August 1, 2020, Chief and Council convened a special meeting to review our Nation's concerns and safety about the encroaching and rising COVID-19 confirmed cases within the surrounding communities of the SaskHealth Region which TCFN is identified as the North Region. As a result, Chief and Council have decided by Council Motion to re-activate our existing Pandemic BCR which mandates our Emergency Response Plan and Bylaw to implement health & safety Pandemic measures, effective as of August 1, 2020. Random Security checks will occur.
Our Program Offices and community facilities & buildings will remain closed from the public and continue to provide "essential services" during the next 14 days: (Tuesday, August 4 to Tuesday, August 18, 2020 inclusive). All program staff will continue to arrive to the workplace and practice preventative and tracking measures upon entering work environment.
The TCFN Businesses will remain open under strict Pandemic health practices and tracking measures.
Chief and Council, along with our Pandemic Control Group team and in collaboration with professional health officials, will continue to assess readiness for reopen and strategize our implementation Phase plan to protect our citizens and Nation.
To all citizens and residents of Thunderchild First Nation, PLEASE continue practicing physical and social distancing with people outside your household home. Sanitize household areas frequently touched, promote washing hands frequently and wear a health mask in large public places and areas of public enclosed buildings, such as shopping stores.
Please be strongly advised and respectfully understand the COVID-19 virus is still here and spreads quickly by community spread movement which can occur at Thunderchild First Nation at any time. Currently, we are planning to bring into our community, a mobile Testing unit for COVID-19 on reserve, as well as on-site at TCFN Health Centre. We will be requesting all TCFN members and residents to be tested to assure positive tracking.
If there is a positive confirmed COVID-19 case within TCFN, we will re-evaluate the Pandemic ERP Plan and Bylaw and encourage everyone to continue to commit to contributing to protecting our grandchildren, children, youth, parents and grandparents from the COVID-19 virus.
We thank you for your understanding and we will continue to update you on a weekly and keep safe.
For Further Information, Please Contact:
Pandemic Coordinator: Dwayne Noon – 1 306 845 7657
Health Director – Juanita Graham – 1 306 914 8116